Sharing your story publicly
For survivors who are ready and able to share their stories, public speaking can be an important part of healing from trauma, helping the speaker to reclaim control of their own experiences and connecting survivors to domestic violence intervention and prevention efforts on the local, state and national levels. Giving voice to the pain and suffering, as well as to the strength and resilience that survivors carry is powerful. In fact, the movement to end domestic violence has been built and sustained by the voices and stories of survivors and advocates.
NRCDV's From the Front of the Room publication series discusses the issues that face survivors who desire to speak publicly about their experiences with domestic violence and provide guidance for the survivor speaker to maximize their physical and emotional safety. Your local program and state coalition can help you plan for your safety and explore opportunities for public speaking. When the media and community agencies are seeking speakers for interviews and/or awareness events, they are likely to contact these organizations for recommendations.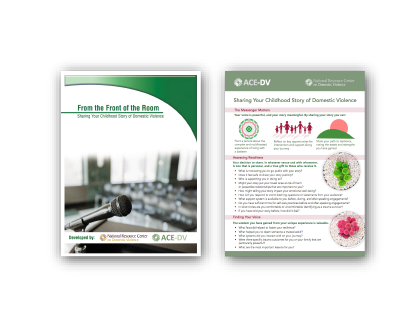 The National Coalition Against Domestic Violence (NCADV) offers a National Speakers Bureau that connects survivors to the community and creates awareness and dialogue around issues related to domestic violence.