By Joe Ostrander, NRCDV
I'm often asked what it is like to be a dad. This is a funny question to ask someone, because, quite frankly, it is hard to answer. Being a dad comes with so many responsibilities, emotions, successes, and failures. Each time I'm asked to talk about what it is like "being a dad," the stories flip through my mind like one of those old-time movie reels.
Often it lands on the happy and proud moments. I mean, who doesn't want to focus on the good stuff? But as I dig deeper, I realize that those moments in between – the hardship, the sorrow, the frustration – are crucial parts of the story of fatherhood and being a dad or paternal caregiver. For without those moments, we can never build our whole selves. I am reminded of the lyrics from the song Dear Younger Me by the band MercyMe:
Dear younger me
Where do I start
If I could tell you everything that I have learned so far
Then you could be
One step ahead
Of all the painful memories still running thru my head
I wonder how much different things would be
Dear younger me
Dear younger me
I cannot decide
Do I give some speech about how to get the most out of your life
Or do I go deep
And try to change
The choices that you'll make cuz they're choices that made me
As a dad, I often reflect on the younger me, the choices that I made – right and wrong, good and bad – and try so hard to ensure that my children don't make the same mistakes I did. But that is a false reality. Being a dad is way more than trying to create the perfect world for my kids. It is about providing the space for them to create their own path – mistakes and all.
"The imperfection and hopefulness of fatherhood." – Dr. Johnny Rice II, Chair, NRCDV Board
Even though I feel a little strange when people ask me what it is like being a dad, I am also immensely proud and honored to answer the question. It gives me a chance to share my thoughts and values on healthy manhood and fatherhood. I am, at that moment, given the opportunity to talk about gender equity and toxic masculinity. I get to be the outward activist father that I try to model to my two daughters and put Awareness + Action = Social Change into practice.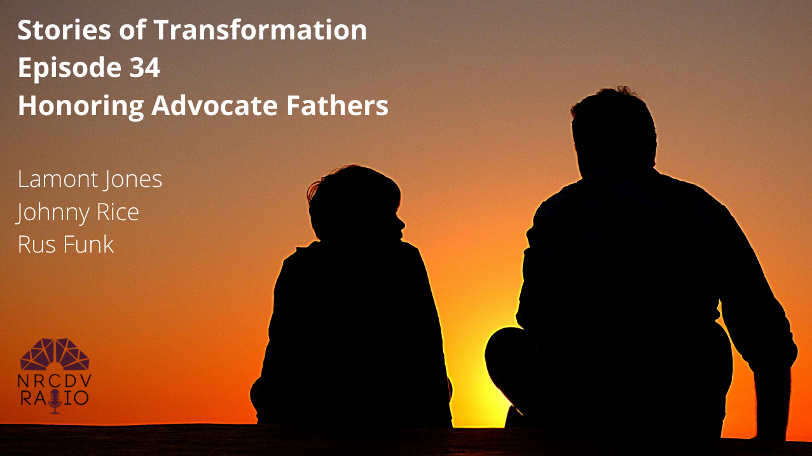 Recently I spoke with three amazing advocate fathers while developing our latest NRCDV Radio podcast, Stories of Transformation: Honoring Advocate Fathers. As Lamont Jones, Johnny Rice, and Rus Funk shared their thoughts and feelings about fatherhood, it struck me how our courses of fatherhood are so similar. Of course, we all want the best for our kids. We want them to thrive. We also want them to develop into human beings who will challenge the status quo and push back against injustice.
Lamont's work within the community is his way of modeling healthy manhood to his children. "I have a passion for equality... when I am with my children, I never give up a teachable moment," said Lamont. "Sometimes they won't listen to me at the time, but hopefully I planted a good enough seed for them to bear the good fruit."
Johnny spoke about the responsibility he carries as an activist father. "My responsibility as a father and as an advocate isn't just to my children," said Johnny Rice. "But it is to make sure I create the type of spaces in society where other children have the opportunity to be nurtured, survive, and most importantly, thrive."
Rus shared that forgiveness and the right to control when and who you forgive is an important lesson he learned from his son. "One of the proudest moments of my life was when he was able to stand up to me and say, 'I'm too mad at you dad to accept your apology.'"
Fatherhood and paternal caregiving is a journey, an imperfect journey fraught with potholes, rollercoasters, and lots of hair loss (at least for me). It is also filled with quiet moments, sugary kisses, and a special connection that will last a lifetime. Happy Father's Day!
Helpful Resources: