Raising awareness involves efforts to increase knowledge or reshape cultural norms or false perceptions about gender-based violence. Preventing gender-based violence involves proactive efforts to stop violence and abuse from
happening in the first place by interrupting the cultural rules, norms, and constructs that support it. When equipped with a heightened level of awareness and an understanding of the concrete actions necessary to get there, social change can occur. This transformation becomes possible when individuals, families, communities, and institutions have access to both knowledge and tools.
Marketing materials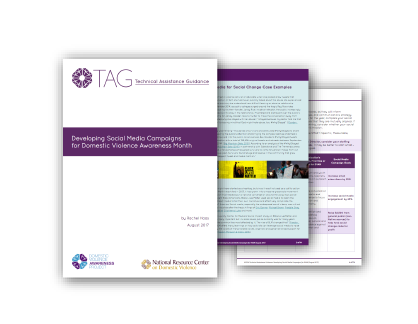 Guide
Developing Social Media Campaigns for Domestic Violence Awareness Month
Technical Assistance Guide with related tools and resources. 
Brochures
Finding Safety & Support
Available in English & Spanish
Helping to End Domestic Violence
Available in English & Spanish  
Posters
AASC Logo
Download 
Download 
---
Downloadable & Sharable Images
---
Social Media Banners